Beauty & Self
Books & Music
Career
Computers
Education
Family
Food & Wine
Health & Fitness
Hobbies & Crafts
Home & Garden
Money
News & Politics
Relationships
Religion & Spirituality
Sports
Travel & Culture
TV & Movies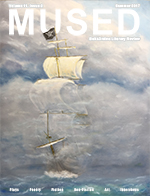 Our time on this Earth is fleeting and precious. We often know that in a vague, intellectual sense, and yet we can find ourselves whittling away those finite minutes without mindful thought. We should celebrate the beauty in a child's smile. The radiant sound of saying "I love you" to that special person. The warm touch of a hand. The delicate scent of a wildflower.

Enjoy the Mused Summer Solstice 2017 Issue



The Gifting 3 Book Series Review
Reading - Connie Mistler Davidson, Editor

The Gifting, The Awakening, and The Gathering are books in a series written by K. E. Ganshert for the Young Adult market, but they can be enjoyed by adults, too. This series is a page turning adventure in reading. The series has action, a sweet romance, and is filled with the supernatural. WOW!




Epidote the Stone of Manifestation
New Age - Deanna Leigh Joseph, Editor

Epidote has long been one of my favorite stones for supporting my manifestation practices. However, to use this stone, I first had to learn to align with my highest good. Read on to find out why! 





How Good Bugs Help Embryo Implantation
Infertility - Hannah Calef, Editor

A reproductive tract populated with lactose-fermenting bacteria may boost fertility




The Evolution of Johnson's 1965 Education Act
School Reform - Maeve Maddox, Editor

The original ESEA was intended to compensate for the obstacles to learning created by poverty. Since 1965, ESEA has been modified, renamed, and extended to include such issues as civil rights.




Prime Evil Book Review
Suspense / Thriller Books - Karen Hancock, Editor

DCI Jack Callum and his team of detectives investigate the grisly murder of an actor who was nailed to a tree. The novel is set in the 50s, and Jack's partner is a woman; this causes friction because women aren't supposed to be good at this kind of job.




Honey Film Review
Drama Movies - Angela K. Peterson, Editor

Actress Valeria Golino, whose English-language films include "Rain Man" and "The Indian Runner", steps behind the camera to direct her first feature. "Honey" tackles the difficult subject of assisted suicide via an engaging heroine and her unlikely friendship with a cantankerous older man.


| Google+ |
E D I T O R R E C O M M E N D E D
The Weiser Field Guide to Cryptozoology


The Weiser Field Guide to Cryptozoology by Deena West Budd includes information, interviews, and stories about forty different cryptids seen in various places all over the world by credible eyewitnesses like policemen, rangers, and doctors. Readers will learn where and how to find flying humanoids, hairy humanoids, giants of all kinds including rabbits, bats and spiders, goblins, and vampires.
Paradise in Plain Sight


Paradise in Plain Sight: Lessons from a Zen Garden by Zen Priest Karen Maezen Miller, is both memoir and Zen guide. Maezen Miller shares experiences repairing and tending a historical Japanese garden in her own backyard, guiding the reader towards direct insight. It is beautifully written, honest, and relevant to the modern seeker of any faith.
Pinnacle Car Care


The Creme De La Creme of Ultimate Car Care is In the House! Using Pinnacle´s product line is like a visit to the salon and the results--magnifique!