Beauty & Self
Books & Music
Career
Computers
Education
Family
Food & Wine
Health & Fitness
Hobbies & Crafts
Home & Garden
Money
News & Politics
Relationships
Religion & Spirituality
Sports
Travel & Culture
TV & Movies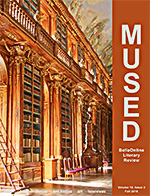 The autumn equinox, that balance point of light and dark, is closely tied to the moon. In China the Moon Festival happens around the autumn equinox, celebrating gratitude and the warmth of good friends and family. This year it was Sept 15th. Our last eclipse of 2016 was a penumbral lunar eclipse on Sept 16th. It fell in conjunction with the full harvest moon, also a symbol of thankfulness and appreciating those who care about you. The autumn equinox is a perfect time to add to those celebrations. It's a wonderful moment to treasure all we have and to share warmth with those who support us.

Autumn Equinox 2016 issue of Mused

Artists Who Paint Political Portraits
Art Appreciation - Camille Gizzarelli, Editor

Painting political figures realistically or ideally began in the 1500s in Europe. Many artists have depicted politicians for the sake of propaganda or posterity. I will discuss such artists and their works.




Fighting Pigging Out
Geriatrics - Patricia Villani, MPA, PhD, Editor

Over-indulging at holiday time isnít the healthiest thing we can do. This article provides some ideas to enjoy all of the delicious options at our holiday tables while helping us avoid stuffing ourselves, being uncomfortable, and cancelling out all of our best efforts to lose weight.




Scented Blends for Winter Skin
Fragrance - Juliette Samuel, Editor

This weeks article will focus on scented blends for winter skin. Itís a given that if you live in climates where the wind will slice and dice your face as you turn the corner, your skin is going to need a little TLC.




Ethnic Beauty, Your Skin Your Way
Ethnic Beauty - Juliette Samuel, Editor

We all know that a good way to help your complexion reach its gorgeous, glowing potential is with a good skin care regimen, specifically for your beautiful ethnic skin. How to you do that? Read on to learn more.




Simple Dainty Edging Beginners
Tatting - Georgia Seitz, Editor

A Simple Dainty Edging for Beginners. This edging appeared in the Coats & Clark Booklet #159, "Priscilla Edgings for all purposes," and is used as a teaching tool with their permission.




Berbere Seasoning Ideas
Sandwiches - Connie Mistler Davidson, Editor

In my kitchen, except for salt, truffle salt, pepper, and Lawry's Seasoned Salt, Berbere Seasoning is my favorite seasoning. It doesn't just add heat to whatever you sprinkle it over, it adds a delicious and delicate flavor. Here are some ways to use Berbere Seasoning.


| Google+ |
E D I T O R R E C O M M E N D E D
The Eye of Adoption


Jody Cantrell Dyerīs down-to-earth, honest account of her experiences with infertility and the adoption process will have you laughing and crying. Perfect for anyone interested in learning more about adoption!
Original Cat Design Products


From Cafepress - Purchase a wide varity of quality products, from t-shirts to magnets, tote bags to mugs and much more, with this original cat design, created by the editor of the Cats Site.
How to Buy Your Next Car


A true car buying expert explains in detail how to buy your next car. From credit and financing to dealer cost and sales tactics, "How to Buy Your Next Car" is full of insightful information to help you avoid making typical car buying mistakes.