Beauty & Self
Books & Music
Career
Computers
Education
Family
Food & Wine
Health & Fitness
Hobbies & Crafts
Home & Garden
Money
News & Politics
Relationships
Religion & Spirituality
Sports
Travel & Culture
TV & Movies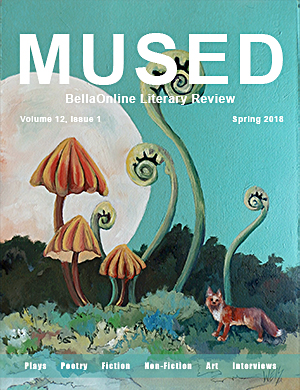 It can seem sometimes as if our world is whirling faster than we can keep up with. It can become overwhelming. Exhausting.

A balm which rejuvenates is to explore the creative efforts of individuals around us. To begin, turn off the noise and clatter of the world at large. Take a deep breath and instead focus on connecting with one fellow human being who presents their jewel of a thought to you. Examine it mindfully. Consider its meaning. Soak in the moment with this one human. Then connect with another. And another.

Enjoy the Mused Spring Equinox 2018 Issue



Tatted Flag Earring
Tatting - Georgia Seitz, Editor

These earrings designed by Sonya Loyd are from the files of the Online Tatting Class. The colors are red, white and blue from our own flag but those tatters in other nations can easily substitute the colors of their national flags.




What Gogin Taught Me
Senior Issues - Pamela Slaughter, Editor

This article shares a story about the impact that a loving person can have in the life of a child; it encourages the reader to consider being a loving person in the life of someone that needs it.




Making a Good Impression Through Writing
Distance Learning - Patricia Pedraza-Nafziger, Editor

Writing is considered one of the most important transferrable skills for employees to possess. The quality of writing is what first captures a job recruiter's attention.




Indian Cooler Recipes
Indian Food - Sadhana Ginde, Editor

My cool and refreshing exotic Indian Coolers are delicious chilled beverages - a perfect way to beat the heat! Minty Ginger Cooler, Pomegranate Orange Cooler, Tamarind Cooler and many more - just to name a few, so do try them all!




Roxanne's, Carpinteria
Knitting - Korie Beth Brown, Ph.D., Editor

Driving through Santa Barbara County? Take a stop in the quiet beach town of Carpinteria! You'll enjoy the colorful offerings of this Carpinteria craft store, which offers more than knitting.




Four Works of Easwaran Eknath
Yoga - Korie Beth Brown, Editor

These tomes will not end up in your giveaway pile!


| Google+ |
E D I T O R R E C O M M E N D E D
Simple Delicious Italian Recipes


Simple Delicious Italian Recipes. Authentic Italian recipes easy to follow and simple to prepare, written by Cinzia Aversa, Italian Food Editor at BellaOnline.com. A perfect gift idea for any Italian food lover.
How to Write Sexy Descriptions and Sex Scenes


by Val Kovalin, your BellaOnline editor for the Romance Novels and Fiction Writing sites. This is for writers of erotic romance fiction (M/F and M/M). Part 1 gives writing advice. Part 2 shows how to write sexy descriptions about the human body from head to toe. Part 3 discusses male-male romance fiction, and Part 4 details the common elements of a sex scene.
Best Sweepstakes Newsletter Subscription


Best Sweepstakes is an excellent way to keep up on the latest sweeps and contests via online, snail mail and text entry. It´s been around for years and is a trusted newsletter among sweepstakers.